Solus Ad Solutions selects Edge1 OOH Advertising Software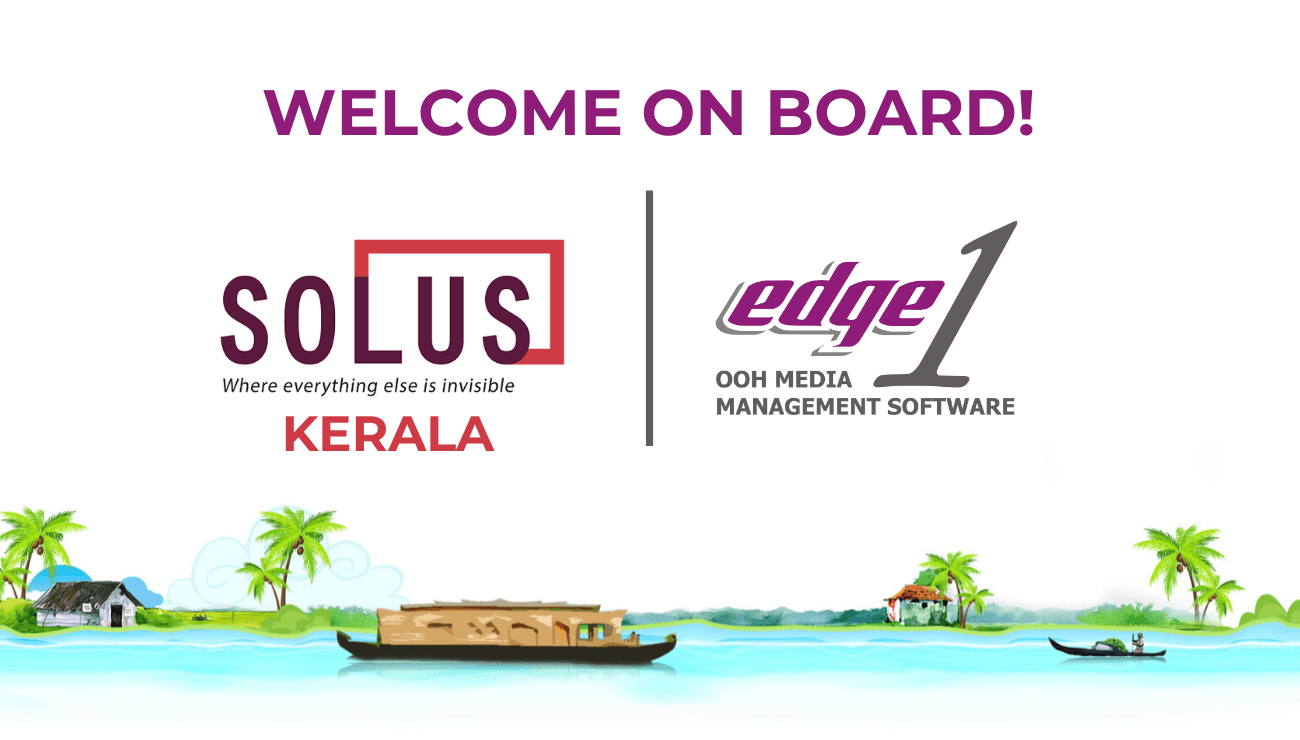 Kerala based outdoor advertising company Solus Ad Solutions is deploying Edge1 Outdoor Advertising Software for their workflow management.
Edge1 Platform, an automation software provider for outdoor advertising companies, announced today that they have been selected by Kerala based Solus Ad Solutions to manage and automate their business work-flow of the growing number of site networks across Kerala.
Solus Ad Solutions will be able to integrate and streamline all their OOH business processes starting from the landlord management to sales, media planning, buying, site availability, campaign management, media monitoring, purchase orders, finance and much more accompanied by graphical analytical reports, showing its growth.
Mohammed Jershi, Director, Solus Ad Solutions, said

"After, researching about many software providers, we finally landed to implement Edge1. Their team showed us how we can manage our sales and increase revenue in a better way by implementing the software, I look forward to seeing the changes it will bring in my business."
Been into the industry from past 6+ years and understanding the new phase of digitization, coming in India, Edge1 has recently launched its new improved version with more autonomous features, business intelligence tools and digital media site management module to cater to the needs of Indian outdoor media companies working with digital media. Edge1's new platform uses modern data mining, pattern matching, data visualization and predictive modeling tools to produce process analytics and algorithms that help businesses make better decisions.
Kriti Raj, Director of Sales, Edge1, said

"Solus Ad Solutions is a renowned name in Kerala outdoor advertising region, and I'm glad after serving the majority of big media companies their, we've now signed, with Solus Ad Solutions. We've made sure that we use our best software implementation practices to make it, yet another success, we look forward to delivering spectacular results to them."
About Solus Ad Solutions: Solus Ad Solutions is an independent outdoor (OOH) advertising company in Kerala. Their diverse portfolio includes 1000+ lit and non-lit street boards, 100+ large format hoardings, 32 bus stops and more, which are located in the most iconic locations throughout the largest markets in Kerala. They engage both mass and targeted consumers every day through their hoardings and street furniture.
For more information about Solus Ad Solutions, visit www.solusads.com
About Edge1: Edge1 is the leading outdoor advertising media management software enabling OOH advertising media owners and agencies to easily plan, buy and monitor their outdoor advertising networks. Trusted by top brands globally, the Edge1 platform manages more than 150,000 sites around the world. Edge1 offers sales, media planning, media buying, operations, monitoring, finance, and analytics all in one platform with mobile apps; based on android and iOS platforms.
For more information about Edge1 OOH Software, visit www.edge1.in
To know more
Email

Phone


+91 (011) 22412700
Subscribe to our newsletter
We understand you're busy. But you still want to be informed. Join our community of more than 60,000 subscribers to stay up to date with the latest out-of-home media advertising trends and happenings in Edge1.